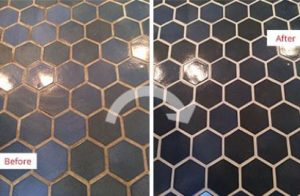 Tile floors are designed to be very durable, and in most cases, it won't take a whole lot of effort on your part to keep them clean. But caring for the grout that is in between the tiles is a completely different story. Over the years, this grout can get incredibly dirty, and it can be almost impossible for you to get it clean. You can spend hours on your hands and knees trying to scrub it, but in most cases, it won't make much of a difference. The grout will still look unsightly and it will impact the appearance of your entire tile floor.
Enhance the Appearance of Your Tiles
Fortunately, there's a solution to this common problem. Grout recoloring is the best option for those who want to restore the look of their grout quickly. During the grout recoloring process, grout will be cleaned thoroughly until all dirt and stains are removed from it. Then, a pigmented sealer will be applied directly to the grout that will change the appearance of it. If you want the grout to look a lot lighter than it is now, a sealer can do that. A sealer can also make it look a lot darker if that is your preference. And you can even make the grout match the color of your tile if you want. It all depends on what look you like best.
Grout recoloring will allow you to do more than just restore the look of your grout. It will also seal the grout so that dirt and stains don't set into it in the future. This will make it easier to maintain your tile flooring as a whole. You will be blown away by how much simpler it will be to make your tile look like it's brand new every time you clean it.
If you aren't happy with the way your tile floors look because of dirty grout, don't put off grout recoloring any longer. Horizon Carpet Upholstery can come to your home and clean your grout for you before putting it through the grout recoloring process to restore its shine. Call us at 602-404-8064 in Central Phoenix, 623-561-6277 in West Valley, or 480-351-8799 in East Valley today to schedule an appointment.