When you're laying a new tile floor, choosing the right grout probably isn't at the forefront of your mind. You've already taken extra care to choose the right tile to match the vision you have for a room—it makes sense that grout has become an afterthought. You may even be avoiding the subject consciously if you're familiar with how tedious the application process can be.
But grout is your friend! In fact, when it comes to tile installation and maintenance, it should be your best friend. We know all about the difference it makes in a room and for your tiles and we want to make sure you know it too. That way you can be sure you're giving your grout the love and care it deserves!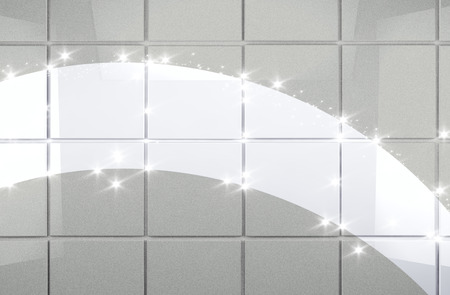 What is grout?
Grout is a sort of paste that's used to fill in the gaps between crevices on your flooring and the walls. It's a combination of cement, water, and color pigments that is applied and sealed to the spaces between your tiles.
What are the different types of grout?
There are three primary types of grout to choose from when tiling your floor—epoxy, sanded, and non-sanded. Epoxy grout is the most durable of the three and is notably resistant to stains and moisture. It's made with a combination of a chemical base and activator that prompt a reaction to seal it in. Epoxy grout is the only kind that does not require sealant.
Sanded and non-sanded grout are both cement-based mixtures. The difference between them is, obviously, the presence of sand in the formula. Adding sand to the mixture creates a bond in the grout that is less vulnerable to cracking, shrinking, and slipping. Non-sanded grout is best used for small gaps and wall tiles, as its sticky properties make it ideal for vertical application.
What is the purpose of grout?
No tile installation is complete without grout—it is an essential element for quality tiling. Grout prevents tiles from breaking and greatly increases their lifespan. The grout you choose will play a considerable part in determining the style of the room, which is why choosing the right type and color is imperative.
Grout hides sizing irregularities that may exist within different tiles and creates a polished alignment and visually pleasing symmetry. It also prevents dust and debris from becoming trapped between tiles.
How do I choose the right grout color?
When it comes to choosing a color for your grout, it really just comes down to personal preference and style. Go with a color that will cohesively bring together the design you have in mind for your room. There are three approaches you can take when it comes to grout color—monochromatic, dichromatic, or neutral.
A monochromatic color scheme is when you match the color of your grout to the tile, like white grout on white tiling. If you want your tile color to stand out and to prevent your grout line patterns from being distracting, use the same color for both.
A dichromatic style consists of grout color that contrasts with tile color, such as white grout on black tile. This will make the tile pattern grid pop and draw the eye to the layout of the floor rather than the actual tile. Lastly, a neutral color grout is always a safe option for tile installation. The grout will go with any room style and make the tile pattern noticeable, but not the focus.
How to I get the most out of my grout?
That's where we come in! Horizon Carpet, Upholstery, Tile & Grout Cleaners Inc. offers a wide variety of quality tile and grout cleaning services. Our experts will be happy to spruce up your home with a thorough grout and tile cleaning and recoloring. Contact us today to make your floor look like it was just tiled yesterday!