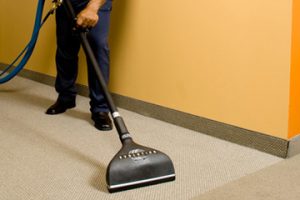 As the old adage goes, "A first impression leaves a lasting impression." This is especially true for businesses, since they need to be constantly striving to make their customers remember their companies fondly. Horizon Carpet, Upholstery, Tile & Grout Cleaners Inc. can help your business do just that by providing you with commercial cleaning services in Phoenix, AZ.
One of the easiest ways for businesses to leave a lasting impression on customers is by having carpet and tile floor cleaning done. Whether you run a retail store or operate an office that sells services, a poorly conditioned carpet or tile floor could make customers hesitate in their decision to do business with you. Horizon can provide you with the commercial cleaning options you need to avoid this scenario.
Professional carpet and tile cleaning is a prudent investment for business owners to make. Whether it's an annual, monthly, or spur-of-the-moment cleaning, our crew will have your carpets and tiles looking pristine and inviting to customers. We can also clean any business furniture you might have.
Our services at Horizon can assist those across many different industries with our commercial cleaning services in Phoenix, AZ. From hotel cleaning services to car dealership cleaning to restaurant cleaning, we can do it all. We have experience cleaning ballrooms, hotel rooms, common areas and corridors, showrooms, offices, restaurants, and more. Our commercial cleaning services are second to none and will allow you to focus on your business instead of worrying about how you are going to keep your commercial property clean.
If you run a business in the Phoenix, AZ area and want your carpets and tile floors to look as good as your brand, contact Horizon Carpet, Upholstery, Tile & Grout Cleaners Inc. today. We can strip, wax, and buff vinyl floors and our truck mounted steam extraction and rinse system will offer you the best deep cleaning possible. Contact us today for more information on our commercial cleaning services in Phoenix, AZ where we never require our clients to sign binding contracts.
RESPONSIBLE COMPANY
Always shows up on time!
Always guarantee our work.
We will correct any issue if necessary!
Fully Insured Auto, Business & Workers Compensation!
---
Hotels & Conference Centers
• Ballrooms
• Common Areas
• Hotel Rooms
• Corridors
---
Car Dealerships
• Showrooms
• Offices
• Common Areas
---
Restaurants
• Carpets
• Tile & Grout
• Booths & Chairs
---
Services & Retail