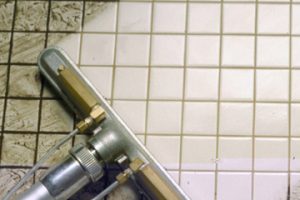 Have the tile floors in your home or business seen better days? Horizon Carpet, Upholstery, Tile & Grout Cleaners Inc. can provide you with the professional tile and grouting cleaning services you need in Phoenix, AZ in order to bring them back to life. There are several benefits that come with choosing tile flooring for your home or business, but in order to keep your floors looking their best, you need to care for them properly. Like most things, tile floors tend to accumulate dirt, debris, and other stains, which is why it's a routine tile and grout cleaning is essential.
Of course, getting on your hands and knees to clean your tile floors and make sure your grout is spotless is difficult and quite uncomfortable. So rather than doing it on your own, consider bringing in a commercial carpet cleaner to help! Horizon offers residential and commercial cleaning services in Phoenix, AZ that will clean the areas of your tile floors that your sponge can't reach. Moreover, our tile cleaning services will help extend the life of your floors and enhance their beautiful color and design. Our tile cleaning services in Phoenix, AZ are second to none and will keep your home or busi
ness looking pristine.
Horizon will clean, polish & hone all types of tiles and surfaces. We specialize in travertine, Saltillo and all natural stone tiles! If you are unsure if your tile or surface is cleanable, give us a call and schedule an appointment today!
Outside of offering tile cleaning services in Phoenix, AZ, Horizon also specializes in helping residential and corporate clients with other services. We offer grout recoloring services that will bring your grout back to its original color. We can also protect your grout from future stains, oil, and dirt, making it so that you won't have to worry about cleaning your tile and grout cleaning again anytime soon.
Horizon Carpet, Upholstery, Tile & Grout Cleaners Inc. would love
to show you exactly how our residential and commercial cleaning in Phoenix, AZ can benefit you. Give us a call today to learn more!