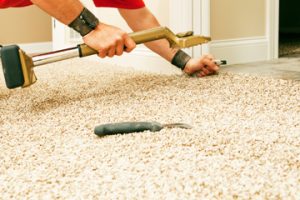 Do you have a ripped carpet? Do you need part of your carpet repaired or patched in? If so, Horizon Carpet, Upholstery, Tile & Grout Cleaners Inc. can help by providing you with residential and corporate carpet repair services across Phoenix, AZ. Rather than replacing your carpeting altogether, we can help repair your carpet and make it look like new again. It will save you money and allow you to get more time and use out of your current carpets.
Horizon specializes in providing carpet repair in Phoenix, AZ to both home and business owners. Instead of paying for a new carpet and making a big dent in your bank account, give the professionals at Horizon a call. We can show you how our carpet restoration services can change the look and feel of your current ripped or torn carpeting. You will save bundles in the process and your carpets will be restored back to their original condition in just a matter of hours.
Our specialists can perform carpet stretching in Phoenix, AZ to repair burns, holes, tears, and other issues plaguing your damaged rug. Even if you don't believe there's any hope for your carpeting, we have a carpet repair service that can, in all likelihood, help you out. Whether you are a busy homeowner looking for residential carpet repair services or a business owner in need of corporate carpet repair, we can get the job done for you. We will also finish the project by giving your carpet a professional steam cleaning in order to ensure that it looks its best before we leave.
To learn more about carpet repair in Phoenix, AZ, reach out to us today. Please note that we are not a licensed contractor to repair or stretch carpets, nor are we required to be, but we do have years of experience performing those tasks.