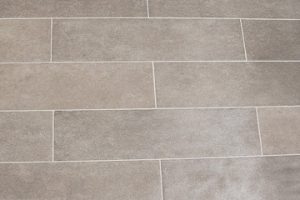 Have you ever scrubbed your floors for what seemed like hours in an effort to remove unwanted dirt and debris from your grout? Sometimes, despite your best efforts, you need a professional touch to remove unpleasant  dirt, soil and other debris from your grout.
Horizon Carpet Upholstery Tile & Grout Cleaners offers a wide variety of professional cleaning services, including grout re-coloring services. After thoroughly cleaning your grout and removing all dirt, soil, stains and other debris, our specialists will also "re-color" your grout by applying a pigmented sealer. The pigmented sealer can either make your grout look lighter or darker, or can match the color it was before, depending on your particular preferences.
The sealer we use is designed to last, and will protect your grout from future stains and oils, ensuring you won't have to spend an inordinate amount of time scrubbing your grout in the future.
For more information regarding our grout re-coloring services in the Greater Phoenix, AZ area, please contact us today.
Does your grout still look dirty and old even after a good cleaning? Horizon Carpet, Upholstery, Tile & Grout Cleaners & Repair has the answer for that!
After we professionally clean your grout, we can apply a pigmented sealer of your color choice. This process is called Tile Grout Recoloring Service. With recoloring you can change the color of your grout to a lighter or darker color or match the original color of your grout.  Like all of our cleaning services, we offer this service to everyone in Phoenix, Scottsdale, AZ and the entire Valley.
We have over 36 new tile grout colors to choose from!
Tile Grout Recoloring Services will:
Save you time and effort by repelling soil and stains making cleaning easier.
Last up to ten times longer than standard sealer thereby offering the highest level of protection.
Save you money in costly remodels and re-grouting services.
Save you money by eliminating the need for harsh tile and grout cleaners.
Gives your tile floor a brand new look and that "WOW" factor you've been wanting!