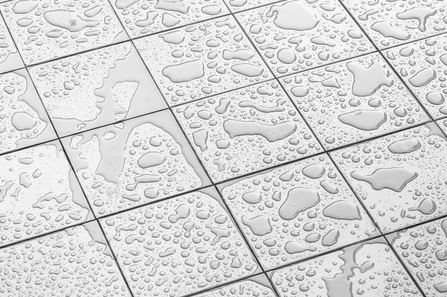 There are several types of tile floors, made from ceramic clay products such as quarry tile, porcelain and terracotta. Generally, tiles are set in beds of mortar or mastic with the joints between tiles being grouted. The term "tile" can also be applied to flooring made from stone and/or vinyl. No matter what kind of tiles you have in your home or building, there's a general way to clean them.
First, sweep your tiles with a broom. Remove any dirt. Use a vacuum to go along baseboards as well as pick up any loose dirt. You can even use your vacuum over tiles– just use the "lowest setting" to clean such a surface.
Next, to really get tiles clean, you can use water and vinegar. Mix both equally in a bucket. Use hot water. Then, take another bucket and fill it with just plain room-temperature water to use as your rinse. Get your mop, apply the hot water/vinegar mixture to it, and go side-to-side along the tiles. Then go up-and-down the tiles. Get between the grout. After you've mopped the floor properly, wring out the mop in an empty bucket. Dip the clean mop into the other bucket of rinsing water. Then rinse/mop the floor with that clean water. Give your tile and grout a good amount of time to totally dry before you start walking on the floor again, and/or before pets start to do so.
Some people put area rugs down over certain parts of their tile floors. They often do this to keep their feet warm when they're standing at the kitchen sink or in front of the stove. Rugs can help add some warmth to tile floors, as well as artistic flair and color.
Tile floors, in general, are easy to maintain, though oftentimes the grout area is where dirt accumulates. Therefore, it's a good idea to have your tile floors professionally cleaned.
Horizon Carpet Upholstery Tile & Grout Cleaners is the Phoenix company you should hire when you want your tile and grout cleaned well. With all the dust and sand of the Arizona climate getting into homes, eventually people in West Valley, East Valley, North, South and Central Phoenix like to have Horizon's workers come to their home or building and get rid of dirt, debris, and stains. For a deep and thorough cleaning that'll remove dirt your sponge can't reach, as well as grout recoloring services, please use our contact page to make an appointment today.