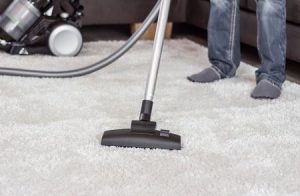 When's the last time you had your house or office carpets professionally cleaned? Never? More than a year? Don't let dirt and other junk build up, ruining the look and feel of your otherwise decent carpet(s).
It's a good idea to have carpets cleaned annually by a professional company like Horizon in Phoenix, Arizona.
For starters, you get more "life" out of carpeting that's professionally cleaned– it just lasts longer than carpeting that's never cleaned. A good cleaning makes a carpet easier to maintain over the years. Rather than let "bad stuff" build up, it's a smart idea to get rid of soils, spots and stains promptly. Should desert sand somehow make its way onto your carpet(s), a thorough cleaning will take the sand away.
How's your indoor air quality? If you've got dirty carpets, it's probably "not so good." Carpets can trap airborne pollutants, which means you're breathing those pollutants in– you don't want that. Meanwhile, carpets can collect allergens and bacteria over time. They can also become home to dust mites and even bedbugs. These contaminants can be removed with an annual professional cleaning.
In general, people prefer clean and fresh looking carpets. Cleaner environments just make people feel better than dirty ones. A clean carpet enhances the look of a room– it communicates to visitors that you care about maintaining the place.
Finally, if your carpet came with a warranty, it's a smart idea to follow the instructions, which usually includes having a professional cleaning using the extraction method at least yearly, in order to maintain that warranty.
In the Phoenix region, Horizon is known for carpet cleaning services. Whether your carpets have dirt, soil, grease, or other debris, Horizon can get 'em clean and help restore their luster. Horizon does both residential and corporate accounts– homes and workplaces. Should your carpet(s) need repair, Horizon can do that, too. With more than 30 years of experience in the market, Horizon guarantees that you'll be satisfied with our carpet cleaning services. Please call and schedule an appointment today: 602-404-8064 (Phoenix & East Valley) or 623-561-6277 (Phoenix & West Valley).