If you run a business, you probably have a million and one things on your mind at any one given moment. So having your carpets professionally cleaned might not be at the top of your list of priorities. Nevertheless, you should really consider having them cleaned regularly for a number of reasons. First and foremost, it will improve the look of your business, which will benefit both your employees and your customers. But that's not the only reason to do it. Here are some of the other reasons to clean your carpeting on a routine basis.
It will increase the productivity of your employees.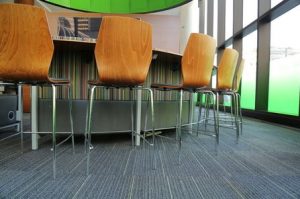 Having your business carpeting cleaned will show your employees that you take pride in what your business looks like as a whole. There's nothing worse than working at a place that allows dirt and debris to pile up all over the place. It can drag down the overall morale of employees. By cleaning your carpets, you will get more productivity out of those who work for you because they will take note of the steps you're taking to clean your business.
It will reduce the damage done to your carpeting over the years.
When you don't have your carpets cleaned for a long time, abrasive materials can build up inside of them and do real damage to the carpeting. This can have a serious impact on how long your carpeting lasts. By cleaning your carpets, you will remove these materials and make your carpeting last for a lot longer overall.
It will save you from having to clean your carpeting yourself.
There are some business owners who try and clean their carpets on their own. It's not a bad idea, but in the end, it's often a much bigger headache than they anticipate. From purchasing cleaning equipment and supplies to finding the time to actually do the carpet cleaning, it's not always worth the hassle. It's often far more prudent to hire a reputable, professional carpet cleaning company..
Is it time to have the carpets in your business cleaned? Horizon Carpet Upholstery & Grout Cleaners Inc. would love to help. Call us at 602-404-8064 or 623-561-6277 today to schedule a carpet cleaning appointment.