Natural stone floors make a gorgeous addition to any home. They bring a touch of elegance and organic charm to a wide variety of spaces no matter the style. If you properly care for stone floors, they can remain a beautiful feature of your home for years to come.
Use these essential tips to keep your natural stone floors in good shape year-round—and don't forget to call Horizon for your regular professional stone cleanings every year!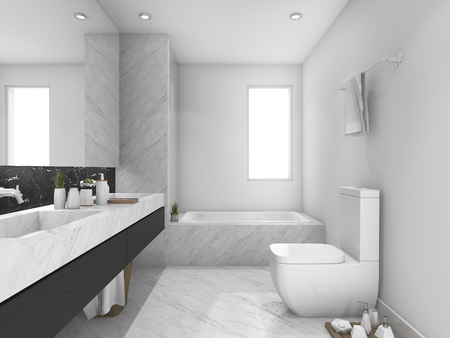 Avoid wearing shoes on a stone floor.
Taking your shoes off every time you come inside might seem like an annoyance, but a quality stone floor is an investment that's worth the effort! Wearing outside shoes on the floor will track in dirt and debris that can scratch and grind the surface. Protect your stone floors from damage by doing your best to keep your shoes parked at the door.
Use entryway mats and area rugs.
Whether you keep to the practice of ditching your shoes at the door or not, you should have non-slip mats or a small rug at every entry point of your home. These sections of the floor tend to get worn down more quickly, so they'll really benefit from some extra protection. The mats will also trap dirt, soil, and moisture from the outdoors that tracks in on your shoes and prevent it from making it any further onto the floor.
Clean up spills immediately.
You want to make an effort to be extra careful handling food, beverages, and other messy materials that can leave a permanent mark on your beautiful stone floor. Of course, you're only human, so accidents and spills are bound to happen! When they do, make sure you wipe them up immediately to prevent staining the stone. If you're not fast enough and it does leave some color behind, clean the spot right away with a strong detergent compatible with the surface.
Deep clean at least once a year.
Routine care is crucial for maintaining the quality and appearance of your stone floor. It is equally as important though, to have it cleaned professionally at least once a year! Experienced stone surface cleaners have the tools and skills to remove films of dirt and grime that will inevitably build up despite regular surface cleaning, just because the floor is used so often. You might want to consider having it done several times a year if you have pets or kids that add extra wear and tear to your home.
Do quick daily cleanings.
Relying on professional cleaning services alone will not suffice if you're looking to get the most out of your natural stone floors. Daily surface cleanings are necessary for keeping you floor in good condition for as long as possible. Sweep, dust, vacuum, or mop with warm water a few times a week at least—or ideally once a day if you can. This will help prevent build up and abrasions from everyday use. Just be sure not to use any acidic cleaning products, as the chemicals will damage the stone!
At Horizon Carpet, Upholstery, Tile & Grout Cleaners Inc., we have the expertise to thoroughly clean stone surfaces of all kinds. Contact us today to schedule a professional cleaning to protect your investment and keep your stone floors sparkling!