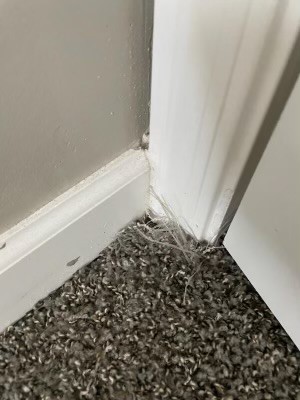 There comes a point in every homeowner's journey when they must ask themselves the question: "Should I repair or replace my carpet?"
Before you answer this question, you must do a thorough examination of your carpet and make note of a few key findings:
Overall Appearance- Consider how your current carpeting looks right now. Are there burn marks from cigarette ashes? Is the carpet frayed? Is your carpet so thin and worn that you can see the floor below?
Stains- Are there stains from red wine, pet urine, coffee, markers, etc.? In most cases, the stained parts of a carpet can be repaired much like a professional would take care of a burnt patch from a cigarette. The bad part is cut out of the carpet and replaced with a good, identical piece.
Bumps- How about bumps and folds in the carpet? Do they annoy you? These wrinkles and waves can be made flat again by a professional re-stretching– so consider that a "repair."
When You May Need to Replace Your Carpet
Certain issues with your carpet cannot be repaired. For instance, if carpeting is so worn and threadbare that it's coming apart in several areas, it is stained in too many places, your pets have created an unbearable smell, the color has drastically faded, or you simply don't like the style of your carpet anymore, it's time to buy a new one.
The Benefits of Repairing Your Carpet

Sometimes, your carpet might need simple repairs rather than a complete replacement. Making small repairs can save you money, extend the life of your carpet, and in some cases, have it looking brand new!
At Horizon Carpet, we can determine what needs to be done to restore your carpets and ensure you get the best results possible in residential and commercial settings. If your carpet has burns, holes, or tears, we have the tools and resources to fix these common issues. In addition to carpet repair, we also offer carpet cleaning, tile cleaning, upholstery repair, and grout recoloring, all in an effort to make your home look and feel beautiful and well-maintained.
Browse our website to learn about our current carpet cleaning specials, and contact us for a free estimate today!