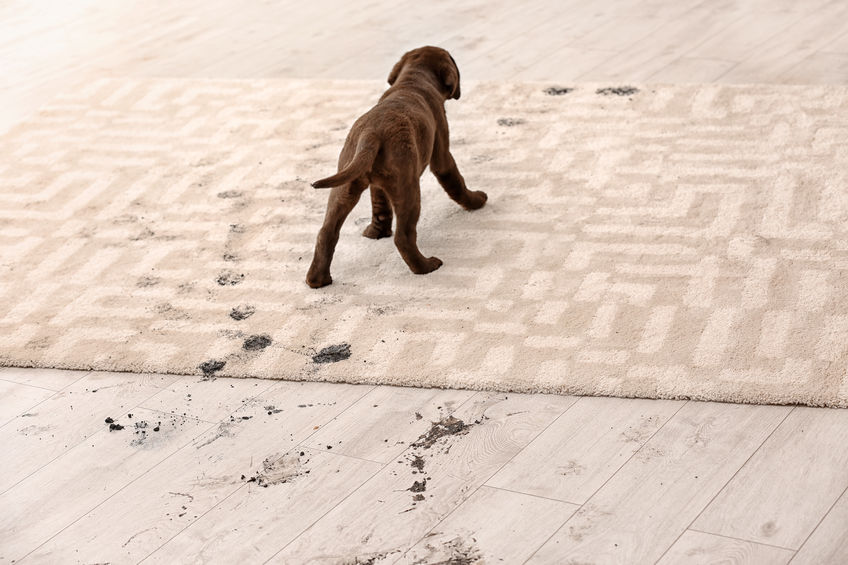 When you own pets and have carpet in your home, it can be difficult to keep the carpet looking clean all the time. Cats are generally cleaner than dogs since most cats are indoor animals but still shed and spread pet dander. Dogs are the major culprits for tracking dirt and debris from their outside adventures, leaving stains and undesirable lingering smells within your carpets.
Here are a few ways you can protect your carpet from your pets!
Use a Fiber Protector
By repelling debris from the carpets, carpet protection tools such as fiber protectors help reduce your necessary manual labor. Fiber protectors eliminate dirt accumulation from your carpets—typically, they cover the carpet fibers, warding off the liquid that passes onto the carpet. Ideally, you'll want to apply a fiber protector right after you clean your carpets to ensure they are not contaminated. It would be best if you had this done professionally to ensure that every fiber is treated.
Purchase Stain Resistant Carpet
If you are able, stain-resistant carpet is always the way to go. Consider this option if you are replacing the carpeting or wish to carpet a wood or tile floor. This carpet is often more costly but lasts for a long time. Stain-resistant carpet already has a protective layer applied to the fibers, so there is no need for scotch guarding practices as it can withstand being steam-cleaned and vacuumed without losing too much of its integrity.
Vacuum Twice a Week
Dander is still created even if your pet does not shed a lot. This can cause a carpet to get weighed down and have an unpleasant pet odor. To prevent this from being an issue, you should vacuum twice weekly. One of these times, you should move furniture and thoroughly vacuum. Pet dander and hair can travel, causing it to get on the carpet underneath furniture. If the pet eats on the carpet or plays with toys on carpeted areas, vacuum their play areas thoroughly. Drool and particles from toys can also get into the carpet, and pet saliva can leave an unpleasant odor over time.
Use Carpet Powder
There are several carpet powders for homes with pets available. Sprinkle it on generously and allow it to sit for the time suggested on the package. Vacuum thoroughly by going over the entire carpet twice. The first pass will pull up the powder and topical particles. The second pass, which should be performed in a slower motion, gets down further to pull hair, dander, and other particles that are deeper in the fibers.
If you are still at a loss for how to clean your pet-damaged carpets, Horizon Carpet can help! We offer professional carpet cleaning and repair services in the greater Phoenix area. You can trust us to breathe some much-needed life into your carpets!
Contact us to learn more about our services and get a quote today.