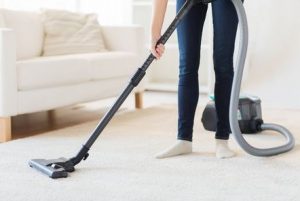 Carpet is an extremely popular floor covering in houses, apartments and businesses. There are many reasons for carpet's enduring popularity, including aesthetics, durability, and comfort. Carpet does require regular cleaning though in order to avoid stains and odors, and to extend its life. How often should you clean your carpets?
The Importance of Routinely Cleaning Your Carpet
Carpet that is not cleaned regularly may collect dust, dirt, allergens, and more. Stains may become more difficult to remove the longer they remain on a carpet. Dirt that accumulates in the carpet will break down the carpet fibers as it is walked on each day, which will shorten the life of the carpet.
Thoroughly cleaning your carpet periodically helps to avoid these problems. A clean carpet looks and smells nicer, but will also last longer and lead to less indoor air pollution and allergy problems.
As a general rule, you should plan to clean your carpets at least once each year, but twice each year may be preferable. Of course, carpet that is subjected to heavy traffic or use may need to be cleaned more frequently.
An important step in maintaining your carpet between cleanings is vacuuming. Carpet should be carefully and thoroughly vacuumed at least once or twice each week to remove dust, dirt, and allergens that may have settled in the carpet fibers.
Professional carpet cleaning services offer many advantages over DIY carpet cleaning. Professional cleaners have expertise in cleaning a variety of types of carpet, and also have access to professional-grade equipment that is capable of producing better results. The cost of having your carpets professionally cleaned may be surprisingly affordable.
Horizon Carpet, Upholster, Tile & Grout is your source for professional carpet cleaning services in the Phoenix, East Valley, and West Valley areas. We are an honest, family-owned business that has been serving the Phoenix area for more than 30 years. Contact us today to learn how we can help or to request a quote for routine or emergency carpet cleaning.