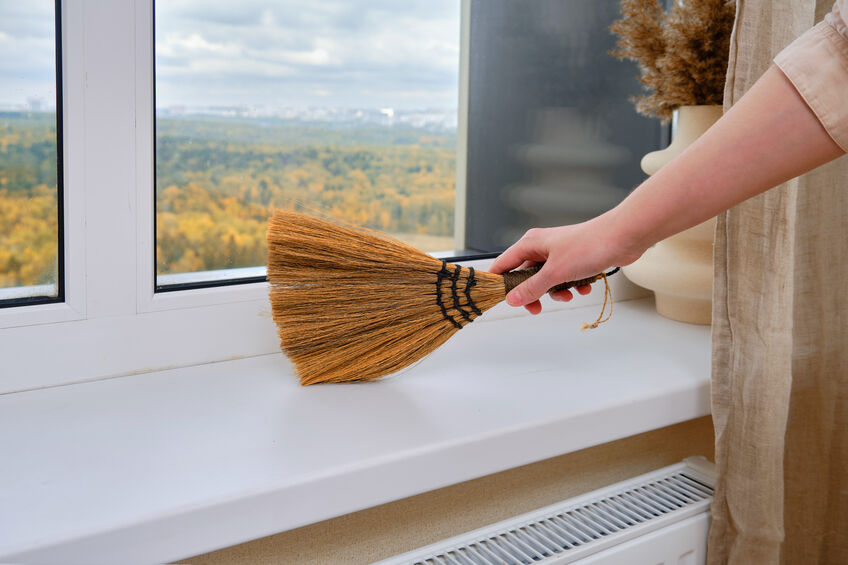 As the season's change, so should your cleaning routine. Fall is the perfect time to get your home clean and cozy for winter and the holiday season and complete household chores that may have been neglected during summer vacations.
Here are a few areas of your home to focus on while tackling your fall cleaning to-do list!
Kitchen
The kitchen is where everyone gathers when they get home from daily activities. Fall weather is a breeding ground for muddy shoe prints that get tracked into the kitchen. Cooler weather also means less outdoor grilling and more indoor cooking, which can do a number on kitchen surfaces. With more time spent indoors, it's important to stay on top of tidying up, especially on surfaces that encounter food.
Dedicate a few minutes after dinner to make kitchen cleaning easier by clearing off and wiping down counters, scrubbing the sink, and sweeping the floor of crumbs.
Bedroom
Days get shorter, and nights get longer when fall comes around. Make sure your bedroom is tidy and clean for unwinding at night. For those who sleep with the window open throughout the summer, closing it up for the season can lead to shocking amounts of dust and pollen collected on bedroom surfaces. Be sure to wash your sheets weekly, make your bed daily, rotate your mattress every two months, and dust your ceiling fans to reduce allergens.
Living Room
Fall is the perfect time to cozy up in the living room around the fireplace. With increased use, however, living areas can quickly collect clutter. Family night in the living room can also mean snacking on the couch, which leads to more spills and stains. Stay on top of tidy appearances by doing a quick pick-up each evening. It takes just a few minutes to do a quick living room refresh with these daily living room cleaning tasks.
At Horizon Carpet, we can help you prepare your home for the colder months ahead by giving your flooring a deep clean! From carpet and tile cleaning to upholstery revamping and grout recoloring, we can provide you with the services your home desperately needs to get it ready for the busy holiday season.
Contact us today to learn about our current specials and services!