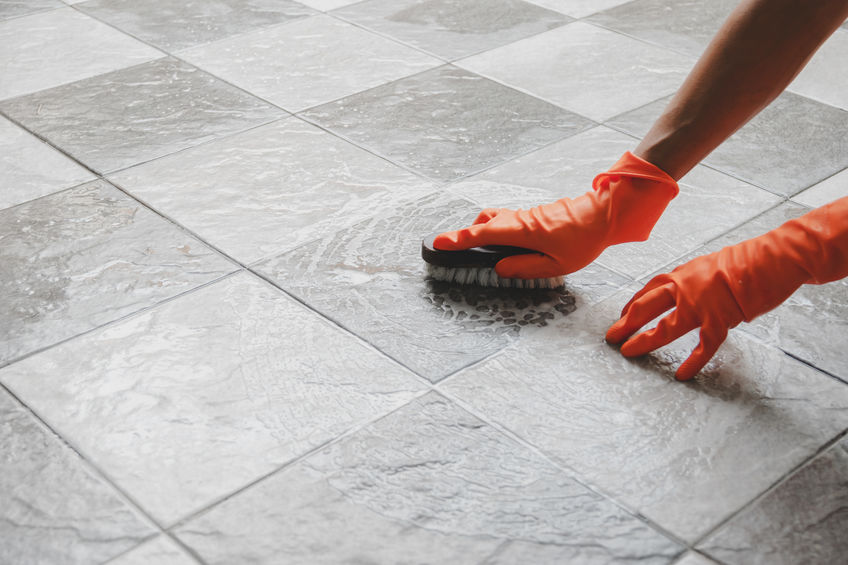 There are many ways you can tell it is time for a grout cleaning. Grout is a white, porous material that fills the space between tiles and helps hold them in place. If you clean the grout using the wrong materials or methods, you could damage the grout and the tiles it is holding together.
Here are a few grout cleaning mistakes to avoid for immaculate-looking floors!
Using the Wrong Brush
Grout seals itself against the elements as it sets, but that surface seal is not indestructible. If you use a wire brush to clean your grout, you will likely tear that outside layer right off and leave the grout susceptible to water penetration, staining and mold formation.
If you want to use a brush to clean your grout, make sure it's one with plastic bristles. There are a lot of grout-friendly brushes on the market. Simply make a trip to the local hardware store for one.
Using Grout Cleaners with Artificial Colors
Some manufacturers add artificial colors to their grout cleaning products. These chemicals can often leave a nasty and stubborn stain if the grout is older and in less than perfect condition.
Bypassing these potentially problematic cleaners and going for one that does not contain any added color is recommended.
Using Sealers
Many grout cleaning products today promise to seal the grout as it cleans. Many of these are wax or oil-based cleaners. The waxy or oily residue they leave behind is supposed to seal up the grout, but often they do more harm than good.
It is important to note that you don't have to seal your grout constantly. Every time you clean your grout, you will first have to strip off the wax or oil-based sealer from the previous cleaning. Using wax or oil-based products on floor tiles increases the risk of slip and fall accidents. If you don't have a compelling reason to use a cleaner or sealer, don't use one.
Cleaning Old and Damaged Grout
If you have older grout that has sustained some wear and tear damage and may be chipped, cracked, or flaking away in places, fix it before you clean it. Water will get into those damaged areas and linger there. The moisture will promote mold growth and soak into the exposed underlayers of the grout and begin eating away at them, speeding up the decay.
Our tile and grout cleaning services at Horizon Carpet are perfect for your floors that need a little extra TLC. Our knowledgeable staff will be happy to spruce up your home with a thorough grout and tile cleaning and recoloring.
Contact us today to learn more about our specialty services and take your home flooring to the next level!