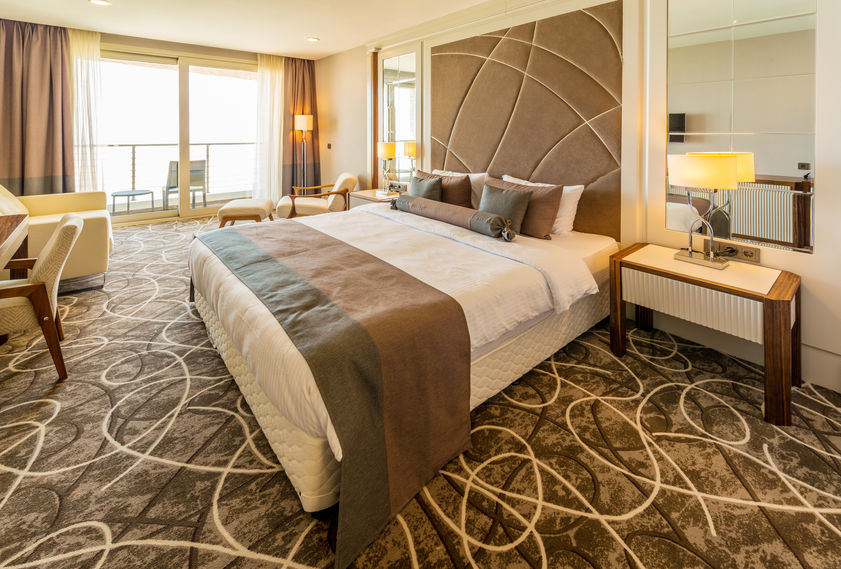 A lot of business owners choose to maintain the carpets in their facilities themselves, or leave the responsibility to a team of in-house employees. For many businesses, this DIY approach to carpet cleaning is a perfectly suitable choice for regular day to day upkeep. In certain industries, however, routine professional commercial carpet cleaning is essential to the success of their business and the health of their customers and employees.
Here are the top three businesses that should consider professional carpet cleaning a worthwhile investment:
1) Restaurants
Restaurant carpets are particularly vulnerable to heavy staining and soiling, given the constant foot traffic and inevitable spillage of various food and drink items. This makes them an ideal environment for the growth of harmful bacteria and mold. Dirty carpets cause odor, poor sanitary conditions (which are especially detrimental to a food-based business), and puts the health of patrons and employees at risk.
A professional cleaning company will have the knowledge, tools, and experience necessary to ensure your carpets are fully decontaminated and return them to their original high quality.
2) Hotels
Cleanliness is one of the first qualities potential guests look for as they search for accommodations. The unkempt appearance, odor, bacteria, and insect activity that dirty carpets foster can result in very negative experiences for guests. Negative experiences lead to bad reviews, both online and by word-of-mouth, which can stick your hotel with a poor reputation you may never be able to recover from.
Professional carpet cleaning will restore the look of your hotel carpets and effectively remove any dirt, debris, and germs left behind as guests move in and out—allowing you to guarantee them a thoroughly clean and sanitary environment.
3) Office Buildings
A fresh, clean work environment makes employees feel more comfortable in the workplace and motivated to be more productive. When you bring in a professional to clean the carpets in your office building, you improve the air quality, eliminate bacteria and potential health hazards, and prevent people from tracking those hazards home to their families.
Expertly cleaned carpets show employees you have high standards for your company and care about the quality of their workplace. This will lead to happier employees, greater retention, higher productivity levels, and ultimately, more profits over time.
For businesses in Phoenix, Arizona looking to revitalize their carpets and offer their valued customers a healthy, hygienic atmosphere, Horizon Carpet can provide the services you need. One of our specialties is commercial cleaning for carpets, furniture, and floors for professional spaces of all kinds.
Reach out to our team today to learn more about how we can clean your business from top to bottom!